The renowned stone artisan Master-Manolis from Heraklion, Crete, the environmental artist & naturalist Stamatina Palmou, founder of Eco-Art and the art therapist Dafni Kalafati from AMAKA join forces for a unique seminar on traditional stone construction, adapted to the natural landscape.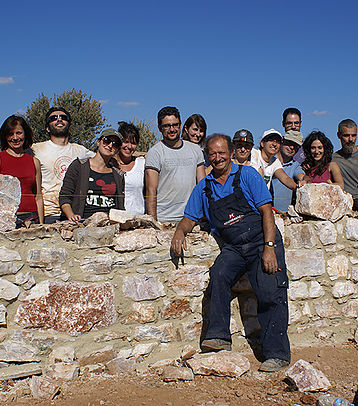 A few words
"I was born -and have lived since- in a small village in the Heraklion district: Ano Asites. I was taught the art of being a "stonemason" approximately 60 years ago. Before going to primary school, my favorite game was playing with mud and stones. When I was in primary school, I picked up a spoon, made it flat like a trowel and I always carried it in my satchel. I was never really a reader, I built little houses instead, no matter how much my mother and teacher beat me up for it, my mind was made up. And so, my teacher in order to get me to pass from one grade to the other; graded me based on my efforts in Art class and Composition, which were very good."
Within a week, the participants will have the opportunity to empirically learn the ways of working with stone, how to prepare their hinges and what basic tools to use, with the final aim being to be able to continue or start over with their own constructions after the seminar has ended with guaranteed success!
The practical session will be held at a private estate in the small village of Katounas, 7klm from the center of Lefkada. At the estate we will, all together, build: single-sided walls, terraces, dry stone structures, benches and a traditional oven.
Simultaneously with the practical and theoretical advice of Master-Manolis, regarding various issues such as laying the foundation, plastering and more. Stamatina will introduce us to the magical world of sustainable development and thus we learn how to discern the properties of each type of soil / region we want to work with, in order to get the best results.
In this holistic approach, Dafni's contribution must be included, as through her own experiences with humans and nature, she will transfer to the participants elements of eco-art therapy, i.e. how to use nature's elements as a means for self-expression and therapy.
So, if you feel like making some contact with nature and its elements, getting to know the exotic beaches of Lefkada, but also doing a lot of heavy lifting and carrying… don't hesitate!
---
Indicative timetable/program of seminar:
07.00-08.00: Breakfast
08.00-10.30 : Stone Workshop
10.30-11.00 : Coffee Break
11.00-13.00: Stone Workshop
13.00-14.00: Lunch
14.00- 15.00: Eco Art Therapy
15.00-17.00: Stone Workshop
---
Cost
Suggested price : 200 € *
* There is the option of offering volunteer work, which will reduce the participation cost.
**The price includes the cost for all the training sessions, breakfast, coffee-snack and a main meal, which are offered at the estate.
*** The price does not include accommodation or transportation costs.
The participants can arrange for their own accommodation or use any of the following options.
At the estate:
The estate offers the option for outdoor camping using your own gear (for free). On the estate there is an open-air kitchen, compost toilets and water. (ideal for those of you without a car).
At Lefkada town:
Accommodation at a traditional house in the old town, Cost 10 € / per person / per day
---
Registration Form
Registration will be open up to the 15th July or until the maximum number of participants is reached, which is 20. Participants will be chosen on a first-come, first-served basis.
To confirm participation, participants are required to complete a registration form and pay a deposit of 50 €.