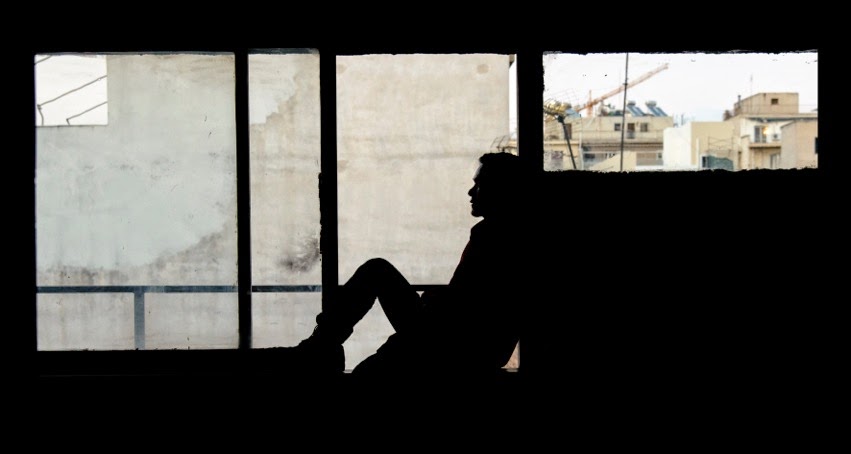 Synergio will be transformed for a while in a five-storey house with many small rooms where people, who arrived in Athens from afar, will live. From far away. An original performance-tour through the personal, living space of each individual.
This involves unique, true stories which we may have never heard. Young people from Afghanistan, Pakistan, Bangladesh, protagonists of an unusual life, fugitives, confess their personal history. They guide us in their personal memory, their past, full of losses and lost opportunities. Each one lives in his personal space.
A classroom in Afghanistan, a prison in Athens, the home of Khalil in Kabul, the Buddhas of Bamyan province, a construction site, a flight control tower, a hospital in Bangladesh. There you will see all their personal belongings. There you will see the documents and photos from their lives before they left. You will hear their voice.
This concerns an unusual acquaintance with people who pass by us but we would never have known them under different circumstances. As the screen transmits anonymous news filled with the horrors of war, their personal narratives embody for the first time the Story in a unique and spontaneous way.
This is a performance-documentary based on the hard daily life of refugees and their personal testimonies. Without losing contact with any of the historical events that shaped the lives of these people, tries to maintain hope for the future at this place where they have found themselves. Greece…
With Chaljl Ali Zada, Ramzan Mohammad, Javad Rezai, Hossain Amiri, Aidim Joyimal.
Conception: Director Yolanda Markopoulou
Dramaturgy – Art Therapy: Margarita Papadopoulou
Movement: Pauline Huguet
Production Design: Aleksandra Siafkou, Aristotle Karananos
Community Drama: Konstantina Rapti, Angel Tsapekos
Video: Daphne Kalafatis, Niobe Stavropoulou
Sound Design: Dimitris Jima
Production Assistants: Zarif Bakhtyari, Katerina Sakarellou
Photos: Elina Giounanli
From 23/5 for a few performances only.
Dates (Wed-Fri): 23, 28, 29, 30 May,
4, 5, 6, 11, 12, 13 June
Begins at: 21.00 Duration: 90 minutes
Εntrance: Free, priority based (max. number of guests: 20)
Information & bookings: 6981802544
Address: 31 Kolonos str, Μetaxourgio (metro ΜΕΤΑΞΟΥΡΓΕΙΟ)
Το εργαστήρι STATION ATHENS
Ένα χαρακτηριστικό του Μεταξουργείου είναι η πολυπολιτισμικότητά του και με αφετηρία αυτό δημιουργήθηκε από την Μ.Κ.Ο. ΑΜΑΚΑ το καλλιτεχνικό εργαστήρι θεάτρου, φωτογραφίας, βίντεο και εικαστικών για νέους μετανάστες και πρόσφυγες, με βάση τις μεθόδους art therapy. Τα τελευταία τέσσερα χρόνια, τα μέλη της ομάδας, πρόσφυγες από το Αφγανιστάν, το Πακιστάν και το Μπαγκλαντές, έχουν δημιουργήσει το δικό τους «Σταθμό» στο χώρο του Συνεργείου.
Στη διάρκεια της χρονιάς στον 3ο όροφο του Συνεργείου λειτουργεί «η τάξη» του εργαστηρίου με στόχο την παρουσίαση μιας παράστασης αλλά και όλου του υλικού που οδήγησε στην δημιουργία της. Ξεκινώντας από τη θεματική του ταξιδιού με την παράσταση «Station Athens" το 2011, περάσαμε στο εδώ και τώρα δουλεύοντας την έννοια του νέου «σταθμού» με την ανοιχτή πρόβα/παράσταση «Είμαστε σπίτι» το 2012 και συνεχίσαμε με την έννοια του πολέμου και την θεατρική performance, «Είμαστε οι Πέρσες!» βασισμένη στους «Πέρσες» του Αισχύλου το 2103, και καταλήγοντας στις ιστορίες από το παρελθόν που οδήγησαν στην φυγή με την νέα μας παράσταση «Ε_ΦΥΓΑ».
Το εργαστήρι ορίζεται σαν «Εργαστήρι Art Therapy» και διαφοροποιείται από ένα απλό εργαστήρι Τέχνης, όπου απλά μεταδίδονται συγκεκριμένες τεχνικές, χωρίς όμως να είναι χώρος ψυχοθεραπείας. Τα εργαλεία του Art Therapy είναι οι εικαστικές και παραστατικές τέχνες και το θεραπευτικό στοιχείο έγκειται στην συνειδητοποίηση του ότι μέσα από την καλλιτεχνική δημιουργία ευνοείται η προφορική επικοινωνία, η συνοχή της ομάδας και η προσωπική έκφραση.