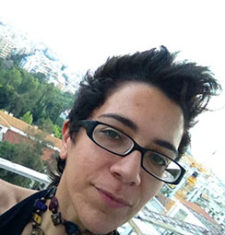 Αnastasia
Project Manager
Anastasia was born in Athens in 1979, where she also resides today. Having completed her studies in the Department of Maritime at the University of Piraeus and the Economic University of Bilbao in Spain (Erasmus program), she returned to Greece. She participated in the Olympic Games in co-operation with the Organizing Committee of 2004 and the French company ECA2 for the production of the Opening & Closing ceremonies of the Special Olympics. In 2006 she became a member of the creative team of Magic Happens Productions (www.magichappens.gr) who produce and organize artistic events and festivals and where she still remains as an Account Manager.
The last two years she has also been freelancing for a tourism company and has been in charge of their student program. In 2014 she participated as Head Speakers Lounge in TEDxAcademy 2014. Finally she works as a Product Manager for the N.G.O. AMAKA and more specifically the European PAROL Culture program.
She has a great passion for foreign languages and speaks English, Spanish, French and Chinese. She practices the Chinese martial art of Tai Chi as well as Thai massage, contemporary dance and butoh.