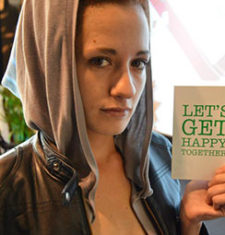 Konstantina
Drama Therapist
Konstantina Rapti graduated from the University of Ioannina, School of Philosophy, department of Philosophy-Education-Psychology in December 2007. Having a great interest and a strong belief in the beneficial aspects of Theatre and Movement in people's mental and social development, she went on with her studies in Applied Theatre – Theatre in Education and Drama with Communities, MA course in Central School of Speech and Drama, University of London, from where she graduated in 2010. Her professional interest was very soon drawn upon communities in social exclusion.
During her studies and her 3-year stay in the UK, she had the chance to work as a drama facilitator in a variety of educational environments, with multiple socially excluded and vulnerable communities, such as prison inmates and ex-prisoners, young people at risk of offending, women victims of domestic abuse, elder people and children with special educational needs. In May 2011, Konstantina moved back to Athens-Greece, where she had the chance to meet and work with the NGO AMAKA, for one and a half years. 
At the same time she got herself involved as an Applied Theatre practitioner in several artistic and educational projects taking place in Athens at that time. She worked as an educationist in Amnesty's International school programs concerning the Human Rights, as a movement therapist for women in '18 Ano' drug rehabilitation centre, and she took part in 'Dagipoli' dance company – a theatre collaboration of disabled and non disabled dancers and performers. Throughout her working experience with diverse communities she developed excellent communication, lesson planning, activities leading and coordination skills.
In February 2013, she moved to Berlin for two months to work as a director's assistant in Benedict Bindewald's musical theatre production 'The fair's fair isn't fair'. At the moment, she is back in London, making her first steps as a Drama facilitator in the UK's educational system. In her free time, she still enjoys attending dance classes, or testing herself in several challenging sports activities.