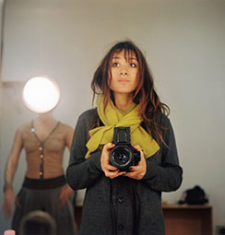 Myrto
Photographer
Myrto Papadopoulos (b. 1978, Athens) finished her studies in 2003 after completing a five-year Fine Arts degree, majored in painting and photography. In 2006, she applied for a photojournalism degree at the ICP (International Centre of Photography), where she was granted a scholarship.
She has won various awards and nominations and in 2013 she was a winner and named emerging photographer 2013 from the Magenta Foundation in Canada. She has taken part in several exhibitions including the Mois off de la photo 08 in Paris, the PHOTOQUAI 2em Biennal Du Monde 09 at the Museé Quai Branly in Paris the New York photo Festival 09, the Biennale of young artists of Europe XIV bjcem 09, the LOOK3 Between Festival 2010 USA, the DUMBO Arts Festival 2011 in NY, the Athens Photo Festival 2011, 2012, the Flash Forward Exhibition 2013, in Toronto and Washington DC and more.
Her clients include TIME, GEO International, Le Monde, DIE ZEIT, WIRED, DAS Magazine, Neue Zuger Zeitung, Corriere della sera, EL Mundo, La Stampa, Diario, Vision Magazine, K magazine (Kathimerini) among others. Today she works as a freelance photographer and a filmmaker and is represented by Redux Pictures in NY.
FILMOGRAPHY 
"THE NEW PLASTIC ROAD"
A documentary about the development of commerce and social change in Tajikistan and China // Co-production with ZDF/ARTE & MEDIA DEVELOPMENT support (in production)
"THE ATTENDANTS"
A Cross-media project using photography, video and sound to explore prostitution and sex-trafficking in crisis stricken Greece by creating also art workshops to improve the life of the victims. // Anemon Productions
THE ATTENDANTS was presented as a cross- media project at the EU Parliament in Brussels in January 2014,as an example of raising social awareness through art and also at a TED talk in Thessalonica in May 2014.