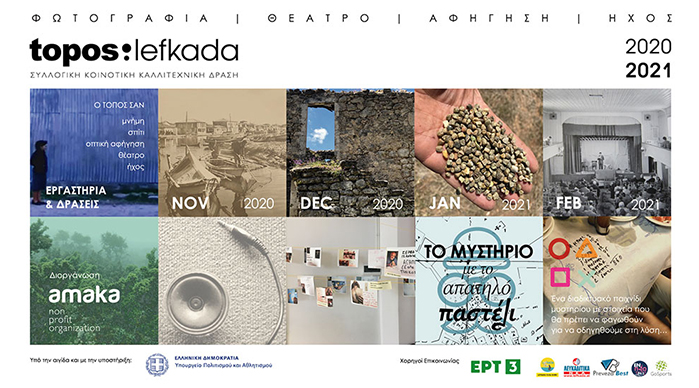 topos:lefkada is a community Art Action project that invites the local people/ residents of the island of Lefkada, the general public and artists to participate in  art and culture activities and create original works that have as a starting point a common place, Lefkada.
The activities of the project include experiential digital art workshops, open and free for the public and are implemented from November 2020 – March 2021 in a digital environment, film screenings and discussions.
The action aims to create a multimedia space that will express the place through collective processes, network local art groups with similar ones in other parts of Greece, highlight the local cultural heritage and artistic production and provide a platform of open artistic dialogue.
topos:lefkada is an open call to Act. Starting with shared experiences and common ground, artists and participants will explore the possibilities of digital culture for sharing stories, ideas and creativity, enabling the wider audience to participate as well.
The workshops of topos:lefkada are:
THE PLACE AS MEMORY, January – February 2021:
Experiential Workshop of Participatory Photography and Subjective Mapping, facilitated by the photographer Daphne Kalafati.
THE PLACE AS A VISUAL NARRATIVE, January – March 2021:
Masterclass of Photographic Narrative facilitated by Myrto Papadopoulou.
THE PLACE AS AN EXPERIENCE, December 2020 – January 2021:
Mural Workshop facilitated by the artist Alexandros Simopoulos.
THE PLACE LIKE SOUND, January – February 2021:
Sound art workshop facilitated by the artist and academic Andromachi Vrakatseli.
THE PLACE LIKE A HOME, November 20, 2020 – Jan 18, 2021:
Creative workshop Postcards from Home facilitated by the photographer Fotini Papachatzi.
THE PLACE LIKE TASTE, February 2021:
A game of mystery and flavors with Heritage of Taste – by Nikos Bandoros and Claire Bakoura.
THE PLACE AS A THEATER, January 2021:
Documentary theater workshop by the director Giolanda Markopoulou.
EPI TOPOU, April 2021:
Experiential workshop for the design of an outdoor exhibition by the artist Dimitra Kondylatou.
The PLACE AS RHYTHM OF NATURE, March 2021:
Herbs and circularity of seasons. Explore the inner process of the rhythm of nature with Aris Kokotsis.
THE PLACE AS A SYMBOL OF SELF, March 2021:
Having the House and Environment as a starting point for photographic and personal reflection we will create environmental autobiographies with Niovi Stavropoulou.
To register for one of the workshops and for more information:
topos:lefkada is under the auspices and implemented with the support of the Ministry of Culture.