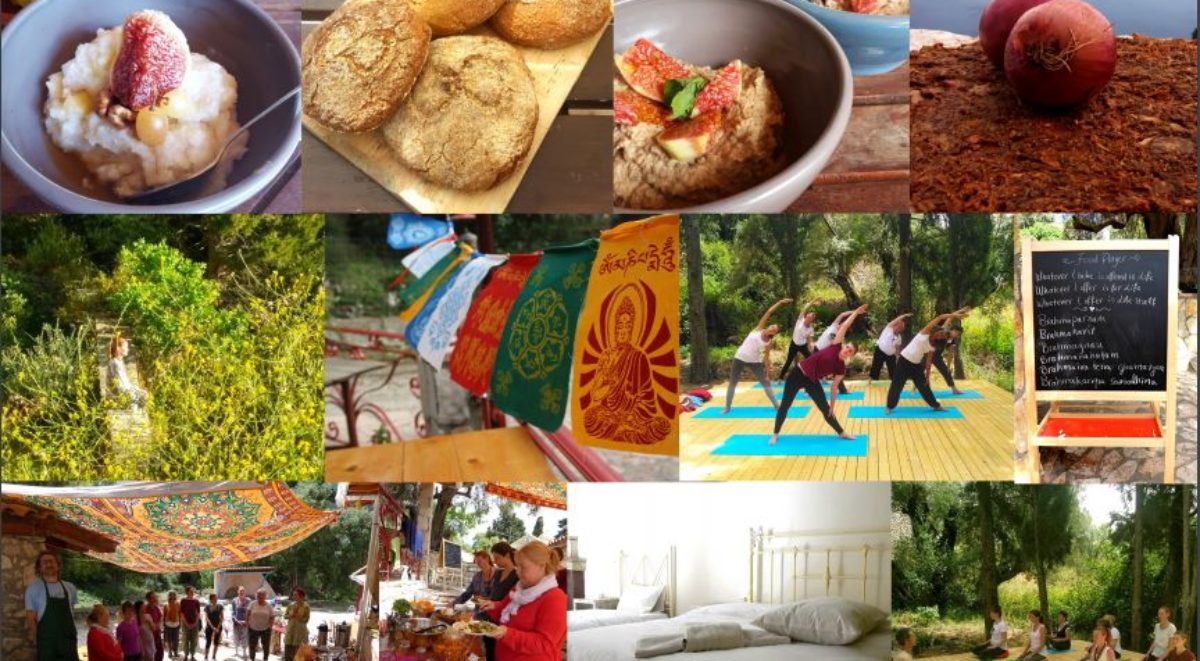 Experiential Art Therapy retreat on building resilienceand preventing /reducing burnout in aid-workers.
Release – Rejuvenate

 This summer AMAKA offers a unique retreat special targeting Humanitarian Aid workers, offering them some time off work and stress. The heroic image of humanitarians often conveyed by the media, shows men and women helping survivors of catastrophes and tragic wars. There is a sort of mythical rhetoric around the frontline professionals that prevents us from seeing their humanity, and the needs that go along with that humanity.
Workers in assistance professions are often under-appreciated, over-burdened and expected to be empathetic at all costs: laying the groundwork for burnout and compassion fatigue.
Aid workers operate in harsh environments and find themselves in the most unimaginable of situations, witnessing human suffering. Due to the intensive emotional labor of their jobs they are at a high risk for job burnout.
One of the main problems is that workers don't always recognize trauma symptoms. They may be "unaware it is happening and they often find themselves chasing the next crisis'" in the hope of "re-experiencing the feeling of satisfaction they originally experienced when they signed up to do the work". This could lead them to  "stop responding to the human suffering", which impacts on the validity of the support they're providing and increases frustration.
Those who are involved in the helping professions and are exposed to various levels of trauma and suffering may experience three different emotional outcomes.
The positive emotional outcome experienced by those involved in the helping professions is identified as "Compassion Satisfaction" and may motivate health care givers.
The negative emotional outcome is "Compassion Fatigue". Compassion Fatigue includes two separate aspects: Burnout which can lead to depression, anger, frustration, exhaustion and consequently to decline in work performance and Secondary Traumatic Stress which is similar to post traumatic stress and may result from working with those who experience high levels of trauma.
Supervision or employee assistance programs can reduce this risk. One particularly encouraging strategy in this area has been the incorporation of art therapy.
What is the effect of art therapy on compassion satisfaction, burnout, and secondary traumatic stress :
Art therapy for Burnout and Stress relief is the process of image making for the purpose of accessing the image maker's inner being as a way of understanding and healing traumatic emotional reactions to stressful situations.
The workshop incorporates creative expression and discussion to repair the effects of secondary trauma in a supportive group environment. The workshop will deal with inner conflicts in a safe and supportive environment and focus on encouraging new ways of thinking and responding to difficulties. Content includes psycho-educational information on the symptoms of traumatic stress and concrete solutions, based on current literature to resolve it.
It will also utilize other forms of expression besides the image, such as: music, movement, writing, mindfulness and guided revelry.
The workshop aims to:
Enhance self-awareness and embody a healthier approach to "doing good" in the world.
Increase ability of emotional expression and regulation
 Lower incidences of future burnout
Increase perception of professional efficacy
Promote self-care
Improve energy levels, and help feel more relaxed, and focused
Facilitate meaning making processes.
Encourage communication
Build professional relationships.
Modules to be covered through the retreat:
– Letting go of Stress
– Exploring the Creative Process
– Exploring Communicating through Art
– Using the Arts to Relax, Relearn and Revitalize: Art making through Guided Imagery
-Your Professional Journey: Crossroads, Obstacles and Detours
– Creating a Personal Treasure Map: Developing Goals and Desires
– How to Cope with Transitions and Changes
– Self-Circles: How to Avoid Going around in Circles
– Motivate yourself Creatively
– Creative Problem Solving Techniques
– The Art of Avoiding Burnout
– Creative Techniques to Enhance Team Building
– The Art of Letting Go
– Borde Patrol: Recognizing our Boundaries
– Building self-awareness and thinking skills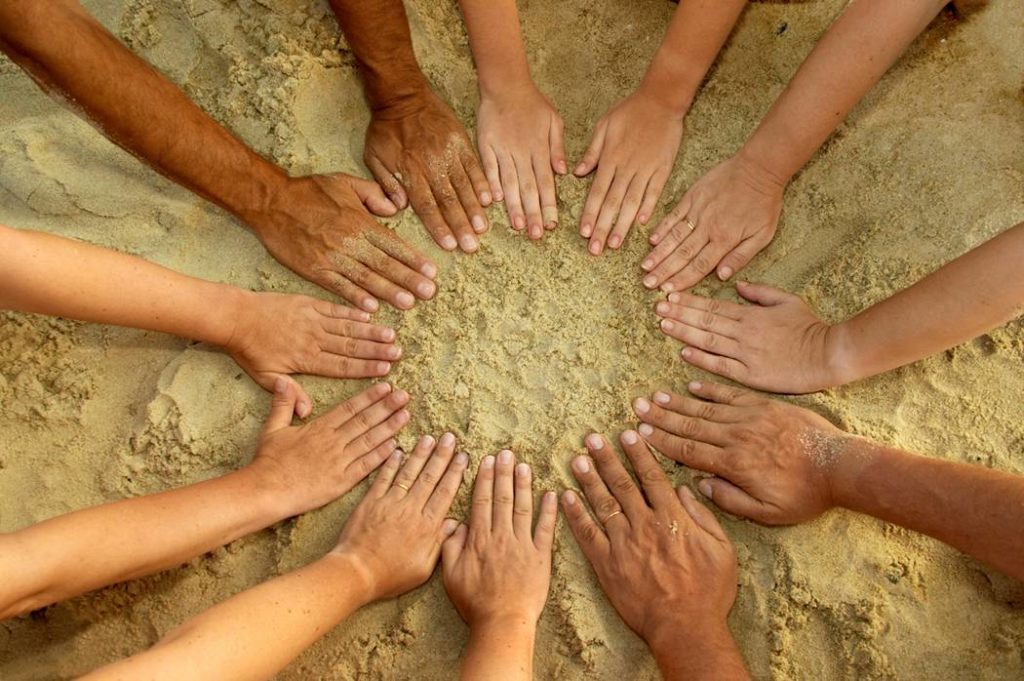 At the end of the workshop participants will be provided with theoretical material for burnout relief techniques and recipes to tame stress.
Join us and nurture your soul through mindfulness and creativity!
*Complete confidentiality is maintained in these sessions for all participants.
*The program can be designed on demand and take place on different dates and/or locations for groups of 6 and more.
The location:
The workshop will take place in a quite mountainous picturesque village on the island of Lefkada in an old restored stone mansion offering the perfect setting for relaxation and contemplation, 10 minutes drive from  the island's most beautiful beaches.
(http://findyourlefkada.com/portfolio-item/mountain-villa-lefkada/)
We are able to offer pick up and transport services on demand. The island of Lefkada is easilly accessible by road from Athens or Thessaloniki, (4 hours drive)  as its an island connected with the mainland  via  a bridge. There are daily busses connecting the island with all the major towns in Greece. Check out the schedule at http://www.ktel-lefkadas.gr/.
The island is also connected with major European cities via the international Aktion airport
The Food:
The food offered will be vegetarian with local organic products, lots of fresh vegetables and fruits. The dietary plan will be careful designed by the www.foodpath.gr collaborative, containing foods that can help tame stress in various ways. The foodpath team on site will be glad to give advice on easy changes we can make in our diet to promote well-being and share recipes with the participants.
Prices :500 euros per person
What's included:  accommodation in a shared studio with: kitchenette, air condition, private bathroom, mountain view, all teachings and materials, all meals and local transport. (private rooms are also available for an extra cost of 50 euros per workshop)
What's not included:  Transfer to and from Lefkada
Please find the participation form here.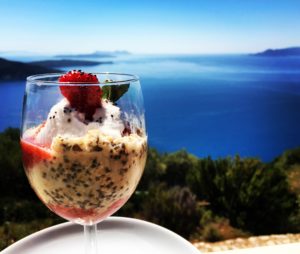 Schedule:
Wednesday: Arrival and Welcome Dinner at 20.00
Thursday- Friday – Saturday:
9:00-9:30 Mindfulness Yoga,
9.30-10.30: Breakfast,
10.30-13.30:  Experiential Art Therapy,
13:30-14:30:  Lunch  (Stress-Busting Foods)
14.30-18.00: Free time for swimming, relaxing, contemplating
18:00-20.00:  Experimental Art Therapy, Practice and Theory
20:00-21:00 Dinner (Tame Stress with food )
21.00-21.30: Optional mindfulness meditation
Sunday :
9:00-9:30 Mindfulness Yoga
9.30-10.30: Breakfast
10.30-14.00: Herbal Collecting walk and Hiking
14.00- : Ceremonial Closure and festive lunch
Departure